Brenda Cabrera: "I am curious about the sexual".
---
by Katherine Perzant
Three women with very black hair look straight ahead, but they must see very little, because three matches that are three wings of crows, cut to perfection, cover their eyes.
Red and small, the mouths are red and small like perfect gems, found in the center of the earth. And the woman on the far left embraces with dominant tenderness a monster's head that also looks to the front, with that mouth that lets you count one, two, three… twenty, twenty gray fangs!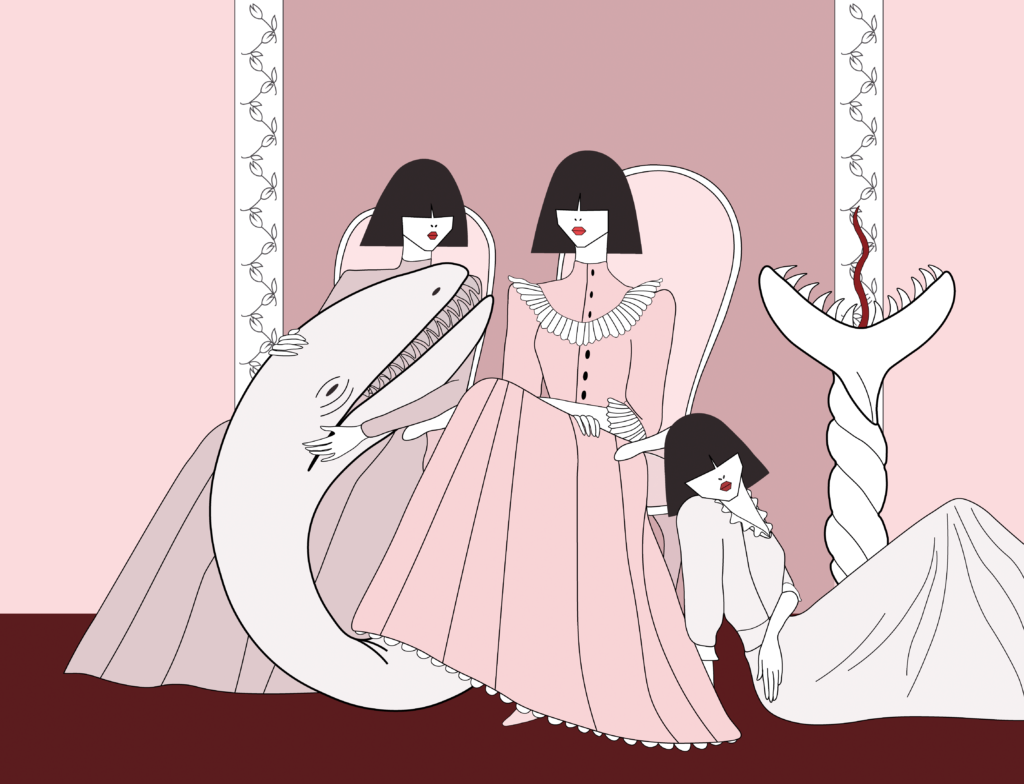 And who are they looking at…?
They are looking at Cuban designer and visual artist Brenda Cabrera (Havana, 1997) who has just created them, choosing the dresses' flounces, the color of the background walls, the toe of the shoes, creating a frightening yet pink scene. The shell that is picked up on the beach because it is beautiful and dropped, is frightening when it is opened.
The scene, which belongs to the series Prototypes I and is titled "Imperial Portrait", was designed in 2020 as part of this invention of coexistence policies and role explorations (hunter-prey) with which Cabrera has created an imaginary of very interesting characters, which dialogue with what we understand by (co)inhabit, dominate, love…. And in the background a bizarre nuance, a social, interpersonal tinge, that makes us wonder who we are in certain places, with certain people, here, in our own body…
When did you feel this impulse to create?
My grandparents lived in the Soviet Union between 1974 and 1978. From there they brought a lot of objects and souvenirs: collections of gzhel ceramics, matryoshkas, polychrome wooden objects, postcards, toys, lamps, winter clothes, tapestries with Russian folkloric passages… It was common that in the 70s and 80s Cuban families had a small catalog of Russian objects or appliances, because they were our main trading partners and the market was flooded with Soviet products.
But my family had the will to bring to Cuba everything they could treasure from their stay in Moscow. Especially my grandmother, who loved to collect objects. And that was my first approach to a specific visual culture. This objectual and visual experience had a great impact on my imagination. It was a process of discovery and interaction with that cultural microworld that my grandparents inserted in their home, and that has never ceased for me.
My grandparents' house is very close to mine. When I was a child, I used to go and play with their objects. Whenever I think of my childhood, I remember being in the dining room manipulating Russian figurines while listening to the radio. I also remember when they showed one of the many tapes that my grandfather recorded with his 8 mm celluloid camera, which consisted of a scene from Lenin Hill where my grandmother tried to ski and fell to the ground, laughing. You could say that was my first powerful film experience. My grandfather filmed well, it was footage with that romantic tinge of the analog and the everyday between laughter, cold, ferry rides, crowded squares and my grandmother in the crowd with her beautiful red coat and her powerful beauty.
My grandmother is the person who has guided my steps since I was a child. She was the one who took me to my first plastic arts workshops and later helped me to apply to San Alejandro. Currently I am almost finished my degree at ISA. I am very grateful to her, she has been fundamental in my professional and human formation… She is the woman I admire most in the world.
Where does your interest in studying interpersonal relationships come from?
Perhaps because of my constant attitude of observing and analyzing how certain coexistence policies are established, especially in intimate contexts. If States and Governments impose macro-policies that govern entire societies, in a household its members design patterns of behavior and interaction that become micro-policies.
In this system we find the politics of the body, of schedules, of sentimental roles, of clothing… In my work all this structure is interpreted through characters, elements and situations of an imaginary that I have been shaping over time. This is how my Prototypes came about.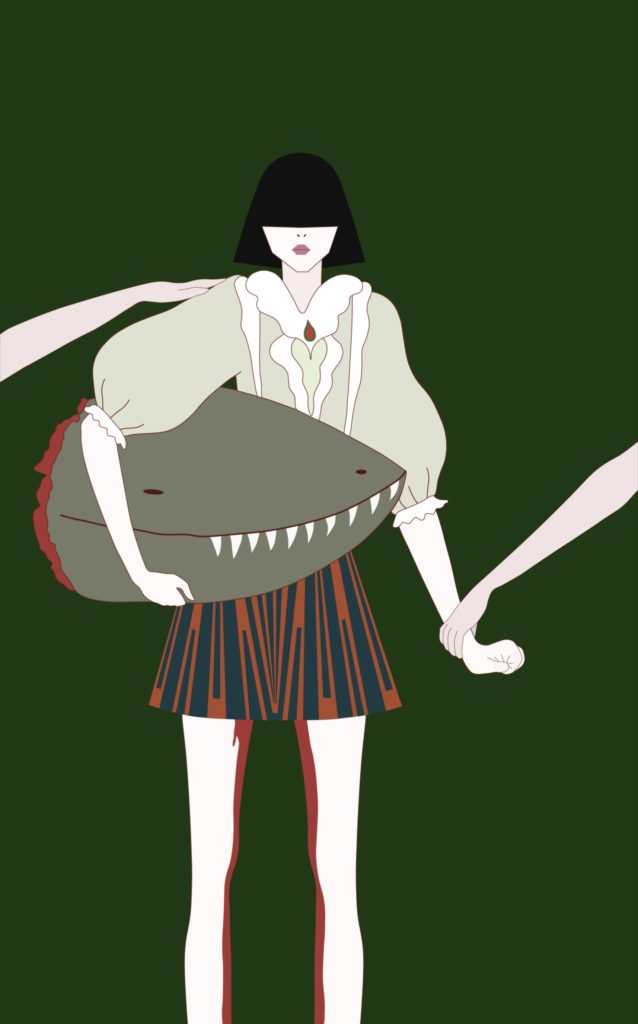 Prototypes how is it articulated, what research or emotions is it the result of?
Prototypes is a series that emerged in 2020 during the first months of quarantine. Although it is very young, I think it is the most important series of my work at the moment. It consists of a set of prototypical characters that can be women of hybrid constitution at times, androgynous beings with braided hair in positions of tension and bodily discomfort, zoomorphic beings, etc.
The conformation of this imaginary began with a prototype of androgynous woman with white skin and short hair that covers her eyes, sometimes she keeps her human form, but sometimes she mutates and adopts animal parts. I have never drawn the eyes of this character, I can't even imagine how they could be, because I wanted to create an emotional distance in the face and give importance to the limbs, the body and her sex.
I have always been interested in creating rarefied scenes and Prototipos is where I develop that will the most. The narratives are ambiguous and have a marked sexual component. I have created a binomial of roles (hunter-prey) and I can expand the relationships between these two poles in different ways.
On the other hand, my "fish" are Monsters, I have named them that way, and so is the species name. Sometimes these beings dominate women and vice versa. They have a phallic shape or can be hybrids. I have in mind to make more characters, to hybridize much more. Work with the zoomorphic and create new beings and species.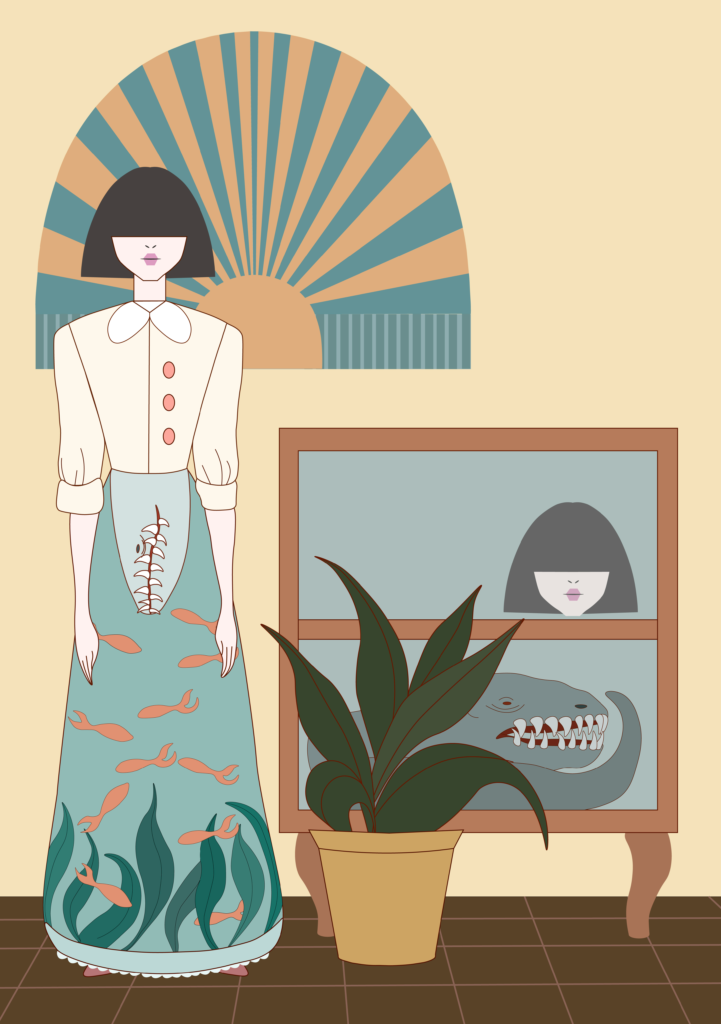 Prototipos is divided into two parts (I and II), why this segmentation?
It is a formal and chronological question. The Prototypes I series is composed of the first characters I designed: the hybrid woman sometimes, the Monsters…, and in them there is a planimetric and sober will of the forms.
Prototypes II expands towards more recent characters that distance themselves a little from this model of androgynous woman and braided heads enter the scene, among other characters that I am currently designing. Also, in the second part of Prototipos the style is more gestural, less contained, the drawing strokes are more accentuated. In both aspects there is a formal and conceptual search in the design of clothing, hairstyles, subordination relations, roles… I design policies of coexistence and coexistence, that is why I also understand myself as a designer.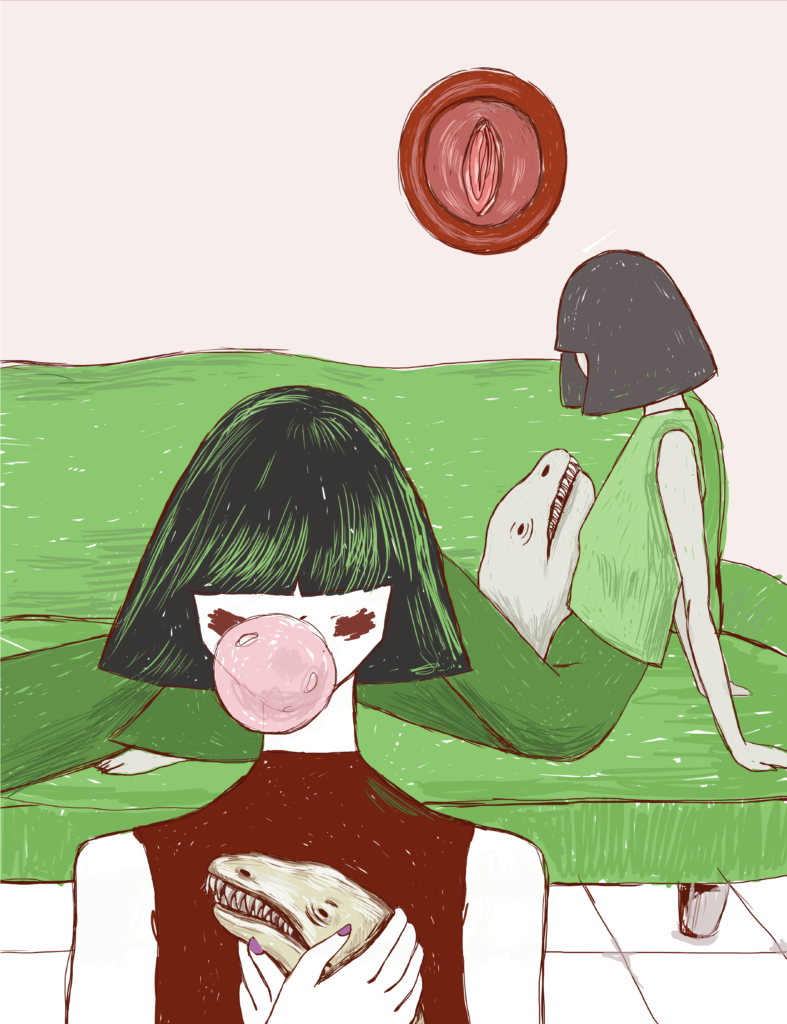 Besides, in your designs, there is an explicit representation of sex…
The sexual imaginary of the morbid, identities, genders beyond the biological, the politics of bodies and the relationship between them and with spaces, has always been a constant in my work. And going a little further, since I was a child I have been curious about sexuality; in fact, my first drawings were quite sexualized.
Which artists or references have influenced you?
I was strongly influenced by Soviet symbolic production. In my work there is an influence of Russian wooden dolls: they are usually solid, they consist of the head and the body, and the craftsmen paint the arms and hands. I have always found this interesting, as they seem to me to be disabled and restrained, subordinated and complacent, in "correct posture" and "graceful demeanor".
My grandmother has a couple of Russian peasant girls with swivel heads and sometimes, depending on the energy of the space or how I am, I lower their heads or arrange them so that they are upright. This is a kind of ritual that I have. People also associate my prototypes with the Asian imaginary and it is true, because I studied engraving at the Academy and discovered at that time the formidable shunga erotic woodcuts, which have contributed to me visually, as well as very specific anime productions, because I do not consume much of this genre.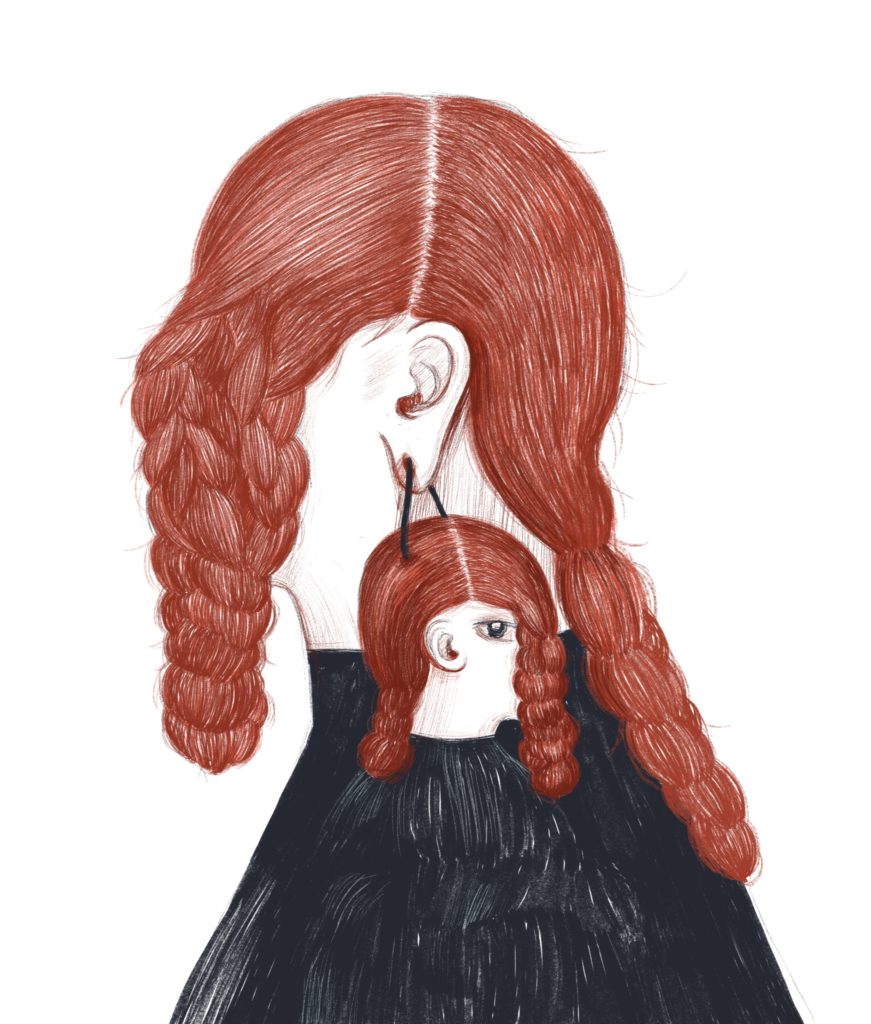 Referring to specific international artists, I admire Lisa Yuskavage with her bizarre homoerotic scenes between women; Margot Ferrick, for the strangeness of her zoomorphic characters and her ambiguous and expressionistic scenes; Paula Rego, one of my favorite artists for her rarefied and tense narratives, and for the grotesque sensation of her characters' actions. In the national context I have as a reference my teacher Rocio Garcia, I love the sensuality of her geishas and her men in bars or covered by night shadows; and Adislén Reyes, my teacher and tutor at the Academy, for the ambiguity with which she assumes the genre and the tensions she creates in her scenes of childlike appearance.
Let's talk about your audiovisuals, for example, your short film Fallas del paisaje...
It lasts about two minutes, I filmed it in 2019. My interest in micropolitics and changes of state in domestic contexts made me expand the means in which I could approach these relationships and I set out to pick up a camera and intuitively film whatever I might find interesting within a home.
I have observed over the years how my grandparents' home has undergone transformations in dynamics because of time and the physical deterioration of them, their relationships and the home they built. So that is my first research platform. Right now I contemplate their house as a museum of residues; because, although almost everything remains arranged in the same way, time has passed and has worn out many things.
In Fallas del paisaje there are political winks, as there are in almost all my work. I film the matriarch of the family, my grandmother, whom I ask insistently about a Soviet postcard. The postcard shows a field of flowers and a white tower in the distance. That place is part of what was known in the Soviet era as Alma-Ata, the former capital of Kazakhstan. The postcard belongs to the collection brought by my grandparents. My grandfather claims to have been there, but does not recognize the place. In the video I ask my grandmother to try to find the definitive answer. She evades me and I am interested in her constant state of apathy as she tries to remember where she was happy. I chase her, stop and give her space so as not to push her. But in the end she replies that she no longer knows if they were there and that trying to remember no longer matters. What perhaps my grandmother did not suspect was that I was not asking about a mere white tower surrounded by flowers, but about her ideal of happiness. Time is capable of crumbling even the most entrenched foundations of utopias.
Through your research, have you formed a concept of what an ideal home should be or do you abhor this idea?
My research starts from contexts where the concept of home or interpersonal relationships does not respond to the binary structure of the ideal, maybe that's why I am not so conditioned and I am not interested in building a system of life attached to the "should be". For some time now I have been almost obsessed with "the death of an ideal": in the broken paradigms is where I find beauty, in the truncated utopias there is a niche of great interest for me. My work as a whole is a reflection of that will to dismantle stereotypes, roles and constructs, to disseminate them in order to discover what lies within?
What are your cinematic references?
I like to consume all kinds of cinema, but if I had to refer to directors who in sum work along formal and conceptual lines close to what interests me, I would consider Stanley Kubrick, Wong Kar-wai, Kim Ki-duk, Jim Jarmusch, Darren Aronofsky, Dogma cinema, Nicolas Winding Refn, among others. I love animated films; especially French animation and directors like Sylvain Chomet, Vincent Paronnaud and René Laloux.
And in design?
Mexican Barbara Sanchez-Kane is one of my favorite designers. I admire the provocative way she takes on clothing as a political attitude, the subversion of gender stereotypes, the military and phallocentric imaginary, and the design of accessories and garments that question the patterns imposed by fashion. In her case, the wardrobe founds atypical relationships between bodies and spheres of power.
Let's talk about your installation, Sincerely, I get out of it.
The work proposes a gesture of absolvency from the overwhelming dynamics that encompass the art system, but at the same time it is somewhat cynical, as the piece is part of a curatorial idea within an exhibition.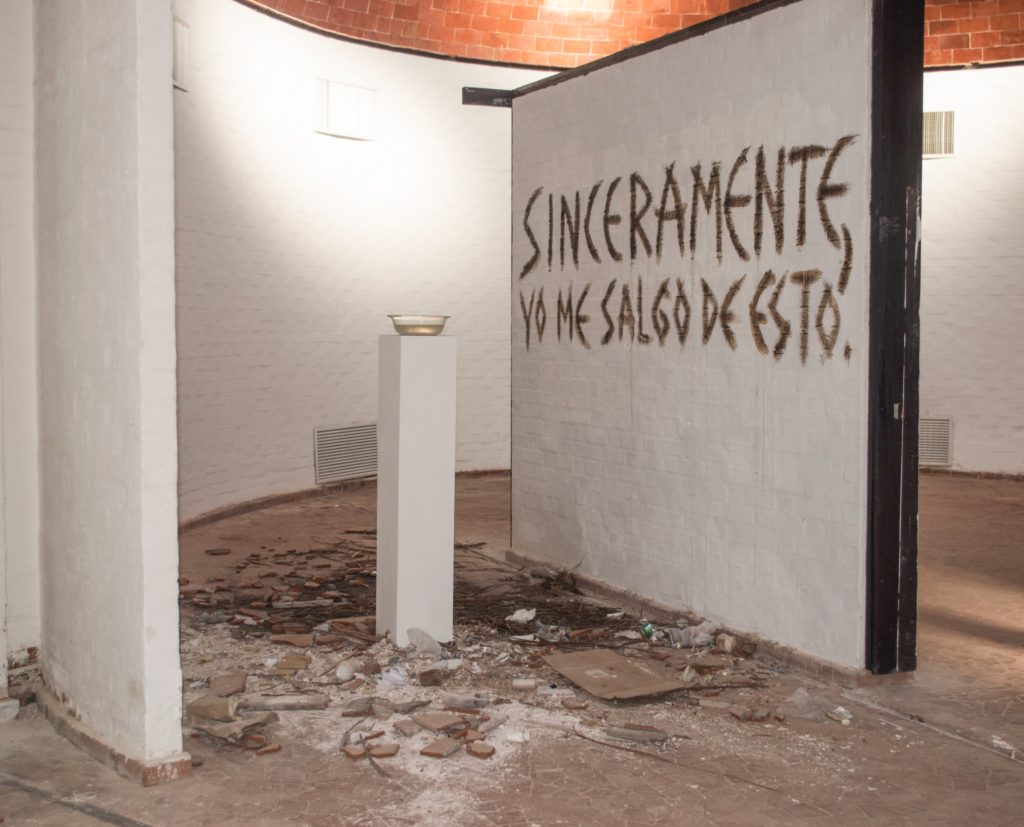 And Habitante con ganas de oler…?
Habitante con ganas de oler consists of two cardboard boxes filled with collectibles to which I applied a gold patina. In one of the boxes lies an untouched object, mutilated and worn by the passage of time. When I exhibited this piece, the boxes were in a part of the gallery, without the appearance of a work of art, and you found them by chance with that object looking at you, which is the materialization of a truncated ideal, molded and transformed into something else. At the same time, it is the attitude I have always had towards the family memory and the objectual legacy: an entity that wants to intrude and smell in a land of dead aromas…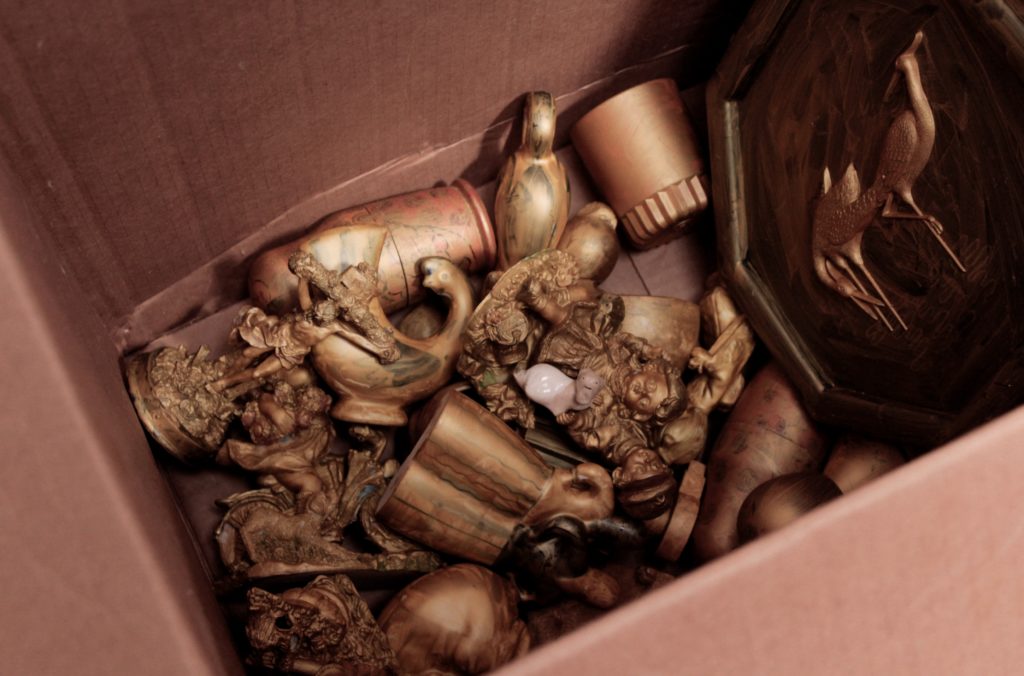 You have an avatar (alter ego) on the social network Instagram… How did it come about, what does it represent in your work as an artist designer, what kind of content does it make visible…?
The imagotype of my Instagram account (@studio_brenda_cabrera) arose from the first prototype I designed: the woman with short hair covering her eyes. In marketing and branding matters it is about my brand as an artist, and at the same time it points towards an avatar and alter ego project in digital platforms and products such as NFTs and metaverses. I believe I can develop my work also in those niches for contemporary art. My imagotype is a formal and conceptual simplification of a prototype of an affected individual, rebellious and maladjusted to conventional social structures.
What projects are you currently involved in?
I am currently developing Prototypes in my studio and structuring the project for my ISA thesis, which consists of the expansion of my imaginary and its insertion into virtual platforms in a more active way, without ever abandoning traditional media.