Alexander Calder, "el volatinero". His trace in Havana (I)
---
By Edgar Ariel
In panel 141, on its obverse, I found the postage stamp containing the sculpture Frisco, by Alexander Calder. Above, in black sans serif letters: CUBA CORREOS 3 ¢. Below, inside a blue rectangle: a triangular figure, a stable/mobile structure, a fragile landscape, a yellow dot, a volcano, a funambulist body, a red circle that envelops everything, envelops everything like a hollow heart.
Frisco is a funambulist body. On it, on that needle, Calder holds a rod to maintain balance. For Calder everything is a matter of balance. Nothing can make him lose his balance. Absolutely nothing.
At a certain height, a harness is useless.
A safety net is useless.
A harness?
A net?
A lover?
Harness-red-lover.
The 141st panel is in the Cuban stamp collection of the José Luis Guerra Aguilar Postal Museum in Havana. It is located in the basement of the Ministry of Communications. I asked to be shown the institution's catalog (still unpublished) where it is specified that the stamps allegorical to the May Salon, including Calder's, were put into circulation on July 29, 1967. On the same day, the most eagerly awaited exhibition of the year opened at the Cuba Pavilion. The public could visit it until October 7.
On the occasion of the presentation in the Cuban capital of the Salón de Mayo, the Ministry of Communications put into circulation a series of postage stamps. The issue consisted of 25 stamps distributed in five values of one cent, five of two cents, five of three cents, five of four cents, four of thirteen cents and one of thirty cents.
The one-cent values included paintings by Wifredo Lam, James Alan Davie, Mariano Rodriguez, Felix Labisse and Friedensreich Hundertwaser. The two-cent values showed pieces by Antoni Tàpies, Max Ernst, Gustave Singier and Max Walter Svanberg. The three centavos showed works by Picasso, Arp, Alexander Calder, Vassarely and René Portocarrero. The four centavos featured Poliakoff, Bram Van Velde, Miró, Magritte and Mata. The thirteen centavos, paintings by Asger Jorn, Pierre Alechinsky, María Helena Viera Da Silva and Jean Messagier, and the thirty centavos a painting by Ernest Pignon.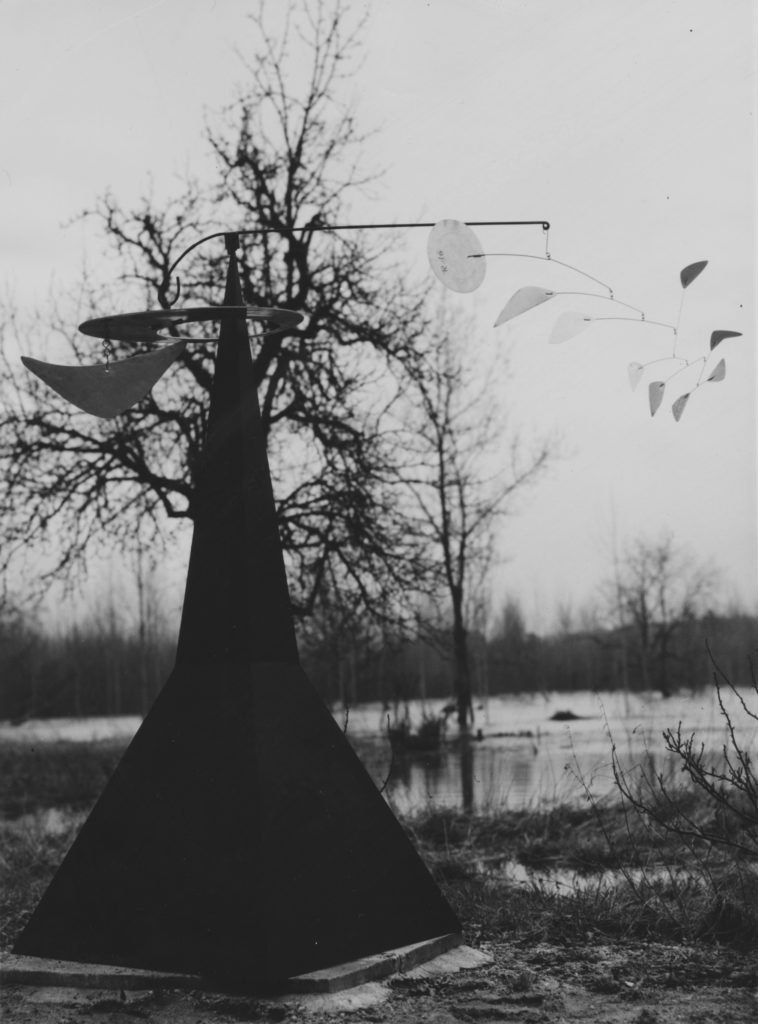 The fact that the Frisco sculpture is part of this catalog is no coincidence. Alexander Calder's work, like that of other renowned visual artists, came to Cuba for the first time thanks to the efforts of Wifredo Lam, who was in charge of part of the organization of the May Salon and a large part of the selection of works and artists. In this regard he was asked, "Are all tendencies represented in the May Salon?" To which Lam replied, "All of them? Well, almost all."
Frisco is a city (Frisco in North Carolina, Frisco City in Alabama and Frisco in Texas). Frisco is a peach. (The Dictionary of Americanisms states that it is a peach with very fleshy flesh that lets the stone or pit come out easily). Frisco is a harness. Frisco is a net. Frisco is a lover; a funambulist lover.
Alexander Calder is a tumbler and puts us on that height, on that triangular volcano that is a needle. He places a tightrope walker's rod in our hands and tells us: There is no room for anything else. The wind passing through. The wind infiltrating us. This state of mental tension is called war.
The tumbler does tricks. The tumbler builds a figure and titles it Frisco. It is a figure in (apparent) calm. The wind passing through it makes it move. They are very slow movements. As slow as a drop of tar.
The flyer knows that in slowness there is no peace. There is tension. Tension equals balance. Distance and proximity. Similarity and difference. This is the instant that the flyer likes the most, the one he prefers to anything else. Everything flies.
In Frisco everything flies. Except the needle and the tightrope walker. They hold each other. They hold hands over the abyss. And we think: who will fall first?
Something similar I think while I observe Calder's stabile in La Défense in Paris. Between polished skyscrapers and businessmen, L'Araignée Rouge (1976) gives the impression of having arrived here flying, fallen from the sky. Fallen from the sky those spider legs, gigantic and alive.
I arrive in Paris to investigate Calder and his relationship with Cuba. At the Pompidou I find a piece similar to L'Araignée Rouge. On one of the terraces of the museum is Nageroire (1964), donated by the artist. Behind Nageroire (like a black fin of animals that no longer exist) protrude the domes of the Basilica of the Sacré Coeur. I was also there one rainy afternoon. In front of me a grandmother said to her grandson in line to enter:
-You don't want anything for Three Kings Day this year, do you?
-Yes, I do.
-But you already have a lot of toys.
-It doesn't matter. I want a drone.
That's it: Nageroire is a drone over Paris.
Also on display at the Pompidou is an untitled drawing by Calder and the sculptures Constellation (1943) and Requin et Baleine (1933), neither of which looks like Frisco. But where is Frisco? In what corner of Havana? Who knows where she is? Who knows where she is? Who is hiding her?
The May Salon had its first edition in 1945 in the French capital. Art historian Lilian Llanes refers in her book Paris May Salon in Havana, July 1967 (ArteCubano ediciones, 2012), that the Cuban edition "was largely due to the initiative of Wifredo Lam in a joint effort with Carlos Franqui". He also adds that the exhibition at Havana's Rampa took place "when the events of the [Cuban] Revolution were awakening the admiration of the European intelligentsia, but also when fears were beginning to spread about the possible implementation of Stalinism in the country's cultural policy."
In this context, pieces by 196 artists were exhibited. Llanes, who was also one of the participants in the international exhibition held at the Cuba Pavilion, recalls: "Although it was noteworthy that sculptors were represented in smaller numbers than painters, the breadth of their proposals and the value of their work as a whole was relevant. Naturally, Arp, with his Torso of a Medusa, and Alexander Calder, with a large-format work, were the most striking.
Liliam Llanes refers to Frisco, exhibited among 41 other sculptures. What happened to this sculpture after the Salon? In what places was it exhibited? What has been the position of the Cuban State regarding its conservation? What steps have been taken by the Calder Foundation for its restoration? Where is it at the moment? Where is Frisco? We are talking about a piece that any museum, institution, even any country, would do anything to have and show as a jewel.
*to be continued..