Hito Steyerl, "This is the Future" (2019)
---
Hito Steyerl's video installation This is the Future (2019), a garden of the future, is a composition of digital plants: screens blossom on metallic stems. The garden was conceived by artificial intelligence and each plant has a Latin name and quite unusual characteristics. These are described in encrypted texts that anyone can read on the screen of their smartphone. For this purpose, QR Codes will be scanned in the exhibition and such details are to be read:
Hordeum Murinum Futuris : "Gierst du nach Likes? / Bereite einen Brei / und verbanne damit / Gesichtsbuch-Verwirrung."

Sisymbrium Irio Futuris : "Bei Tagesanbruch / Nimm ein Blatt / Und leg es auf das Auge / Dies zieht Werbung heraus / Und klärt den Blick / Vertreibt / Toxische Sponsoren / Trolls und Melancholie / Macht Kunstwerke feuerfest / Beugt Grünwäschung vor."

Chenopodium Botrys Futuris : "Das Gewächs ist krass. Es tut gar nichts. Tu dasselbe und du fühlst dich gut."

Urtica Dioica Futuris : "Diese Pflanze bindet Gift / Aus sozialen Medien / Und beherbergt Insekten / Sie gefällt den Sinnen / Durch ihr bescheidenes Wesen."
I can think of some associations and attempts of interpretation of the piece. In art history, the garden is a traditional representation of paradise or of an original nature, but This is the Future doesn't represent any utopian or dystopian world. Nor is it about showing an object, the garden, outside its context – Yes, Mr. Cattelan, Duchamp has long since become out of date. Whether artificial intelligence can create art is not a central question of this work, where A.I. is used as a medium and not as a topos per se. People's relationship to the world is perhaps a central theme of this piece, but it is not reflected and questioned here. The abundant information about the fictional flowers via Augmented Reality seems like a kind of entertainment and in this sense could be an allusion to Guy Debord, but this cannot be a sufficient interpretation for the whole work, which has many other aspects. And in order to approach the solution of post-conceptual art, it would first be necessary to be able to clearly name a concept.
I feel actually quite puzzled: this installation strongly resists all my efforts to get closer to it.
For no description of the piece, no analysis of the composition and no investigation of the empirical experience helps me to answer the basic question that I keep asking myself: What is this work about? What does the artist want to say and what is it that makes this installation to be a work of art?
This work is neither a representation, nor a critical review, a description, or a concept. Its position is so undefined that I really do not know how to deal with it.
Isn't that exactly what confused art critics in the time of Duchamp, Manzoni and Richard Long? When they, like me, had to face something that they could absolutely not classify within the framework of established art? And yet they knew that it could be nothing but art. Therefore, I sense a redefinition of art in Hito Steyerl's piece. An old question is being newly asked as to what a work of art is and why. What is the nature, the role, the object, and the place of art in our contemporary society? These questions are not new but are asked in a new way because they are asked by means of a medium that is peculiar to our digital age. Artificial intelligence is a resource of our time. It shapes the new inventions, works and ways of thinking; it changes our definition of normality.
By using artificial intelligence as the base of her installation and augmented reality as a tool for its mediation, Hito Steyerl questions the position and nature of art in our digital present. Of course, it is also important to wonder what new doors are being opened by artificial intelligence. From a technical, aesthetical and conceptual point of view, this new resource is absolutely fabulous and very promising. But these aspects seem to be quite minor compared to the question "How can art be questioned and redefined using contemporary digital media? And above all: how can this question be re-asked in a work of art today? For this is the actual, complex core of This is the Future. It is finally about asking how a question can be asked; Hic et Nunc.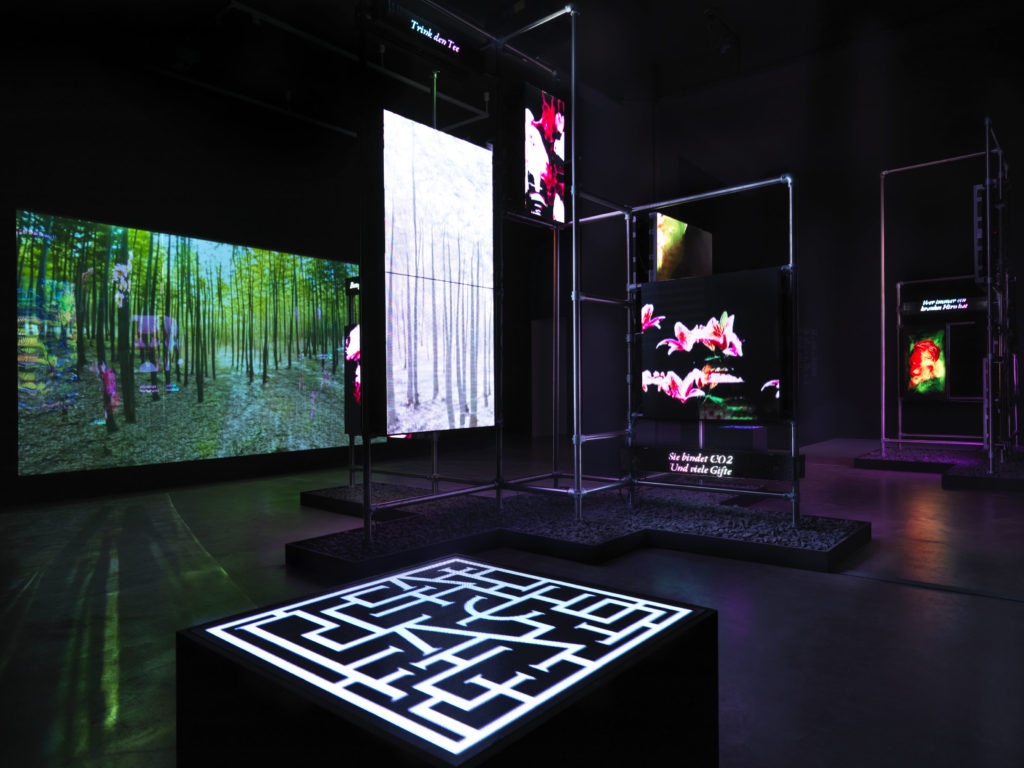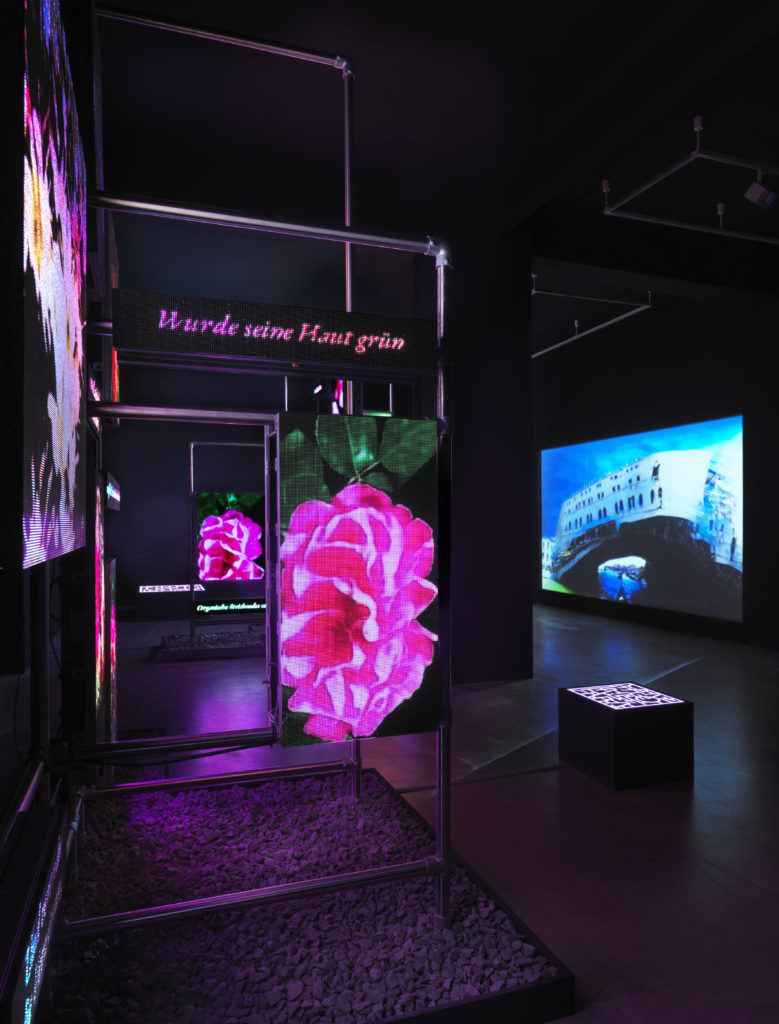 Cover and other photos: Hito Steyerl, Exhibition view Neuer Berliner Kunstverein, 2019: Hito Steyerl, THIS IS THE FUTURE,2019, Videoinstallation, Environment: THIS IS THE FUTURE, 2019, 1-Kanal-HD-Video, Farbe, Ton, 16 min; POWER PLANTS, 2019, Mehrkanal-HD-Video, Farbe, Loop; Environment: Stahlgerüste, LEDModule, LED-Text-Module, zementbeschichtete MDF-Kästen, Kies (Olivin), Größe variabel. Courtesy die Künstlerin; Neuer Berliner Kunstverein, Berlin; Andrew Kreps Gallery, New York; Esther Schipper, Berlin. Foto © Neuer Berliner Kunstverein / Jens Ziehe
Hito Steyerl
23 November 2019 – 26 January 2020
Neuer Berliner Kunstverein e. V.
Chausseestrasse 128/129
10115 Berlin