History of art or the art of writing history
---
Emil Nolde's political position is made clear from the beginning: he has clearly positioned himself for Hitler's Reich since 1933 and has tried with all his might to have his art approved by the government, although he never quite succeeded. In 1937 his works were shown in the exhibition "Degenerate Art" in Munich and in 1941 he was banned from working. Many of his works were confiscated by the state. But despite everything he fought further to be recognized by the government as an official artist. He wrote letters to prove his anti-Semitism and his belief in Hitler's political program. Some NSDAP ministers and powerful persons took him under their wing and supported his artistic work despite the controversy. For this reason, the artist was able to continue to live well and without financial troubles regardless of the work ban. After the war, he also had no problem using the confiscation of his works and his professional ban as evidence of his oppression in order not to be arrested during the denazification. He built a legend from his own history and from 1945 tried to hide his earlier approval of National Socialist ideas. From his history arose the myth of a victim of National Socialism, which is still valid today for many art lovers. Whoever takes note of all this at once in the exhibition at the Hamburger Bahnhof feels confused and wonders whether Emil Nolde's political positions (first for the NSDAP, and later as a victim of the III. Reich) reflect his true convictions or whether they were pure opportunism, which would not make it better. But one immediately understands that this question is neither relevant in order to judge his actions morally, nor to view his work artistically.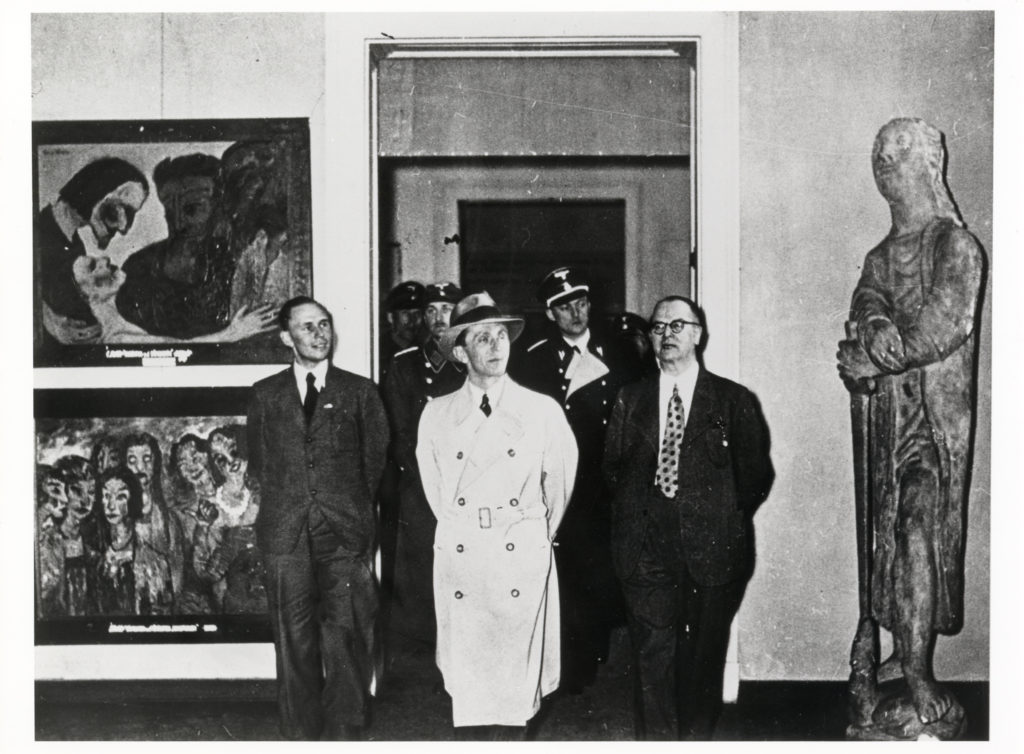 The exhibition primarily aims to deconstruct this myth of a victim that Emil Nolde partly built himself. The main question is: how and to what extent did Nolde's political position influence his artistic work during the war?
The question is answered efficiently and with clarity: First, Nolde's attempt to be recognized by Hitler's government has had a strong influence on the subjects he has painted. All biblical themes quickly disappeared from his work. Instead, he preferred landscapes, flowers and themes from Nordic mythology. Secondly, the correspondence exhibited between Nolde and his allies shows that, despite the work ban and thanks to the support of ministers and leaders, he was allowed to continue exhibiting and selling his paintings in galleries. His political commitment and good connections allowed him to continue to finance his life.
Indeed, thanks to the curatorial texts and the exhibition of Nolde's writings, the truth about Nolde's political commitment and opportunism is restored. This is very important because many of us today still know Nolde only as a victim of National Socialism and know nothing of his anti-Semitism and political opportunism. This ignorance or delusion led to the fact that his works are still regarded today as a symbol of a denazified Germany. To this day, some of his works hung in the offices of the German government in order to rehabilitate a self-proclaimed victim.
© Nolde Stiftung Seebüll, photo: Dirk Dunkelberg, Berlin Emil Nolde, Reife Sonnenblumen, 1932, oil on canvas, 73.5 × 89 cm, Detroit Institute of Arts, Gift of Robert H. Tannahill, © Nolde Stiftung Seebüll
Emil Nolde, Herrin und Fremdling, o. D. (probably model for the painting Nordische Menschen, 1938), watercolour, 17,1 × 22,5 cm, Nolde Stiftung Seebüll,
In a short time I have noticed that the main question mentioned above has been slightly changing in my mind: How and to what extent did Nolde's political position influence my perception of his artistic work? What remains of the expressiveness of the works when so much space is given to the biographical aspect?
At the beginning, I was slightly overwhelmed by the ubiquitous exhibition texts. The biographical information is so complex, important and difficult that it's not easy to look at the works for themselves. At first, the viewing was unpleasant and left me with a bitter taste, because the hic et nunc was disturbed by the clumsiness of the historical background. The wall texts and the numerous writings shown in showcases that reveal Nolde's problematic history suffocated my perception of the works. But they were all so important that I never wished they were any less. Almost every sticker that labels the exhibited works summarizes the history of the work or the context of its creation. Basically, the exhibition is spatially arranged in such a way that no work can be viewed without a written trace of history following the gaze at the same time. The only place where it is possible to free oneself visually from the curatorial references is where Nolde's studio was reconstructed. There, the visitor enters exactly the same room that Nolde had set up in his house in Seebüll. Where his friends saw his works during the war when they visited him. The impression is strong and the feeling terrible. Although there is nothing to read about the historical context there, I couldn't say that it took less space in my perception of the works.
One might fear that the works might be lost in these purely historical reflections. But in reality, the ubiquitous texts will never exert a moral influence on the contemplation of the works. Never has the exhibition led me to feel instructed about my way of seeing Nolde's art.
On the contrary, I felt stronger in front of the pictures. The texts sharpened my view. They placed me in a fair position towards the works: I was informed about all the complex historical aspects. My gaze was not moralized, but made more intelligent. Strong with knowledge, I was able to see the works and decide for myself how I feel about them and how I deal with their stories. And it is precisely for this reason that I find the exhibition exemplary and admirable: the curators Bernhard Fulda, Christian Ring and Aya Soika have decided to place their fundamental trust in the visitors as well as in the works of art. It would have been easy to use Nolde's political history to degrade his artistic work and teach a lesson. In the beginning I feared this hurdle. But it doesn't happen because there is a fundamental trust: the visitors will be able to decide for themselves how they feel about Nolde's art, because they will have a complete knowledge of the background. And the works are radiant enough so that their beauty touches strongly despite everything. Nolde's morally problematic opportunism and his anti-Semitism are no reason to censor his works, but require extensive contextualization. The curators have shown great confidence because they have rightly assumed that works of art do not lose their strength and expressiveness, even if the complex reality that concerns them is explained without simplification. For this trust I am very grateful.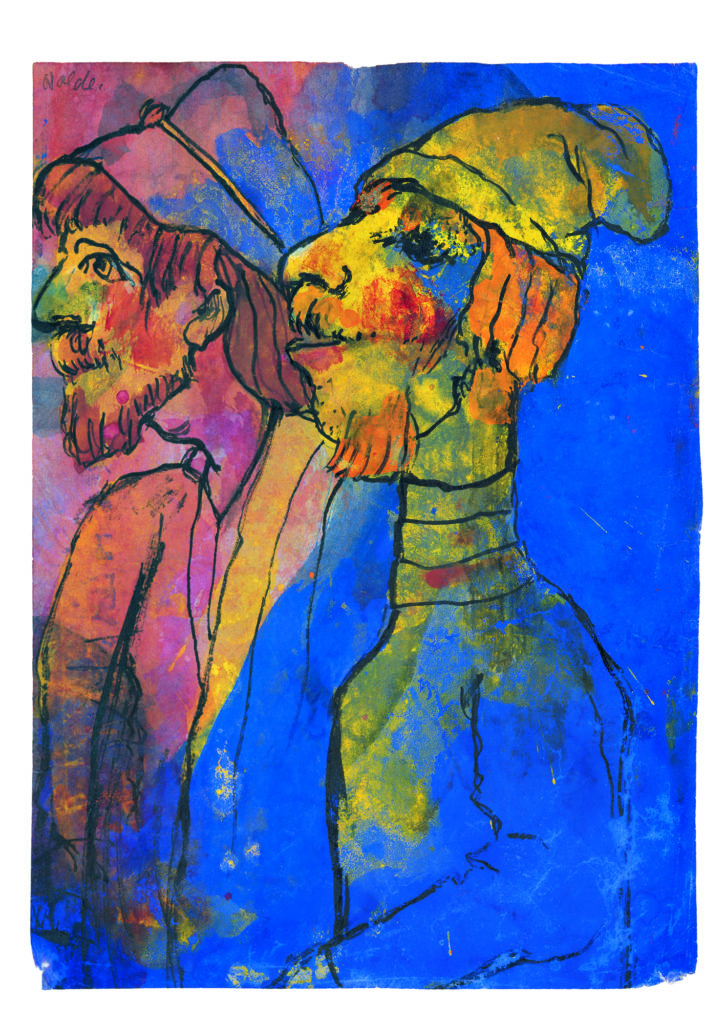 Cover: Emil Nolde, Kriegsschiff und brennender Dampfer, o. D. (before/around 1943), Watercolour, 14,8 × 24,4 cm, Nolde Stiftung Seebüll, © Nolde Stiftung Seebüll, Photo: Dirk Dunkelberg, Berlin
Documentation:
Karolin Korthase, "Emil Nolde im Hamburger Bahnhof: "Deutsch, stark, herb und innig"" http://blog.smb.museum/emil-nolde-im-hamburger-bahnhof-deutsch-stark-herb-und-innig/
https://www.smb.museum/ausstellungen/detail/emil-nolde-eine-deutsche-legende-der-kuenstler-im-nationalsozialismus.html
Exhibition "Emil Nolde – Eine deutsche Legende. Der Künstler im Nationalsozialismus"
12.04.2019 until 15.09.2019
Hamburger Bahnhof – Museum für Gegenwart – Berlin