Conversation with the artist Inês Zenha
---
I met Inês Zenha last June at her exhibition Between folded, enfolding and yet to be unfolded in the former Red House, now called the 10 Bastille.
Fascinated by her works in volume, which seem to come out of a fault in the wall, I wanted to know more about her and her work. I learned that she was a young Portuguese artist of 24 years old who had just moved to France, and more precisely to Folie Barbizon where she had recently been in residence. Trained at the Central Saint Martins School in London, she met artists with whom she created the Parentheses collective. The atmosphere of the opening is such that our conversation is shortened. I suggest that he make an appointment to talk about his work.
This conversation is a transcript of a meeting with Inês Zenha in October 2019 in a Parisian café on rue Bichat in Paris.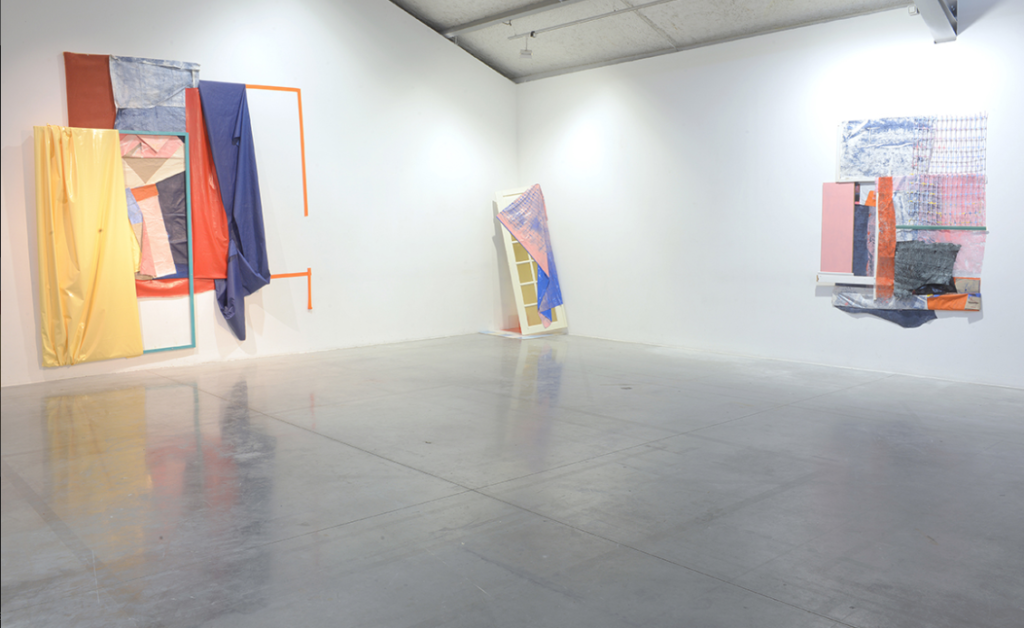 Victoria Le Boloc'h-Salama: Your works are made up of furniture, everyday objects, assembled fabrics on which you sometimes paint. Always hung on the wall, they remind us of paintings in volume. How did you manage to make these "installations"?
Inês Zenha: At the beginning of my studies, I was mainly involved in figurative painting. I was already questioning painting as a medium but I remained within the limits of a "classical" painting. One day, an artist told me "but why don't you put your subject directly on the board? ».
It made me think a lot and I came to the conclusion that I had to literally deconstruct painting: from my perception of figurative representation to the materials I used to create. I went to Central Saint Martins School because they offer four courses in Fine Arts: 1st, 2nd, 3rd or 4th dimension, which I chose. The 4th dimension of my work rests on the link I weave between my body and my "painting installations" in volume, when I create them.
As an artist, we traditionally ask ourselves the question of when a work of art is finished; when did we go to the end of what we were looking for? I do not agree at all with this question, which requires a binary answer: yes/no. I'm more interested in "Is it possible to make a work of art that would never be started and never finished? ». I try by this way, to make a work of art in the future, in the "space time of the environment". I conceive it as an independent entity that I freeze in perpetual evolution. More broadly, the multiplicity of beings, things, identities is a subject that interests me a lot and on which I write and read a lot.
VLBS: How do you select the materials with which you create?
IZ: I mainly work with second-hand objects that I collect in the street. I integrate them into my works, deconstructed or not, even though they are theoretically considered as waste. Like the works they will compose, these end-of-life objects are also taken as multiple entities in transition.
VLBS: Would you say that the panel of materials you use is a kind of alphabet, or scale, with which you deal?
IZ: That's exactly what it is. Each work is unique. Once dismantled, I reuse its components differently to create new ones. These materials and objects are like pieces of a puzzle.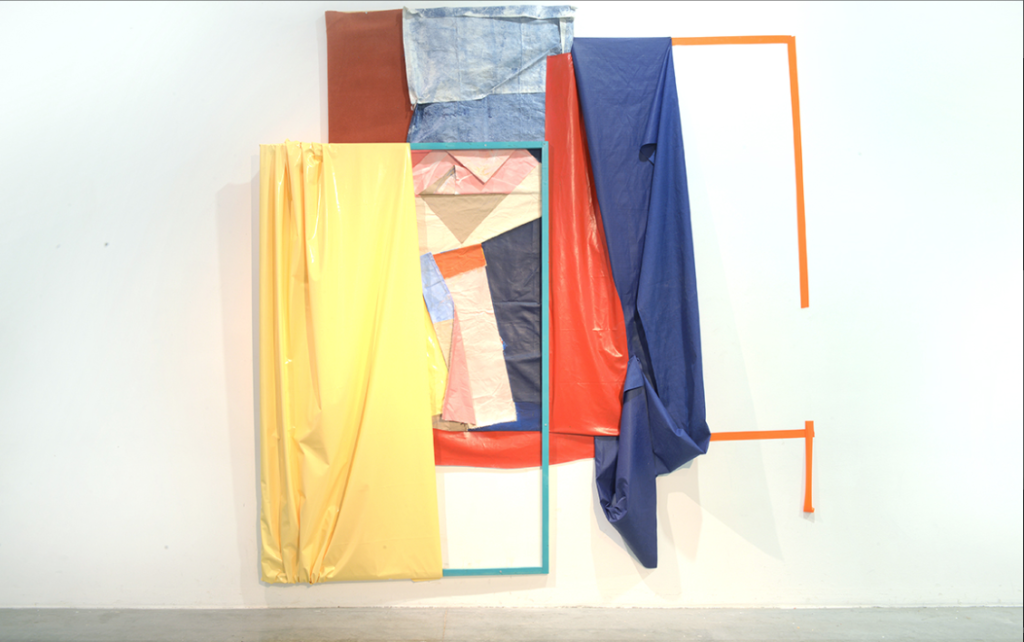 VLBS: You use the same elements that you have differently from one work to another. All your creations are therefore part of a broader approach. How do you consider each assembly? Is each one a new work, or is it precisely this broader approach that you consider to be "the work"?
IZ: I consider them as multiples. It's like echoes, derivatives that would come from the same family.
VLBS: What are you looking for when you assemble these parts? What does it take to add it to your collection, to this puzzle? 
IZ: I look for relationships between colours and textures, the way a painter or musician is looking for harmonies of forms or rhythms. Every object used is a brushstroke, every object is a decision. In the same way, I adapt to space, as the painter or musician adapts to black and white or silence. I have the impression of recreating a unity from a certain "chaos", of making it something meaningful.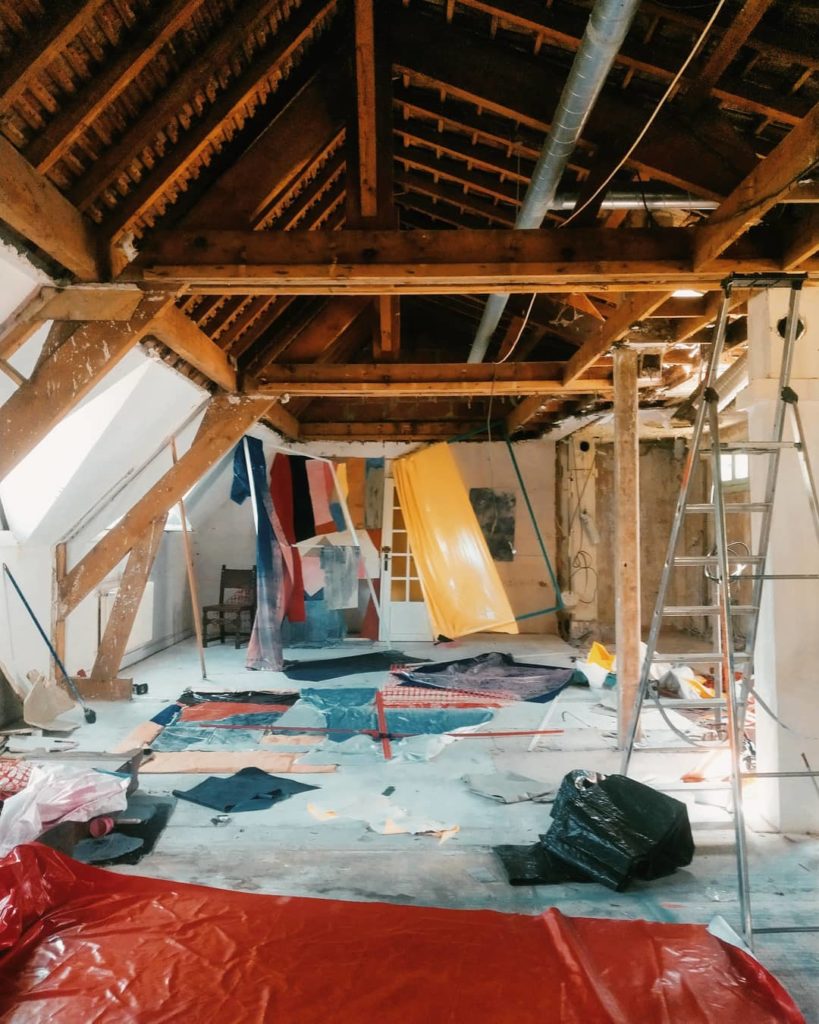 VLBS: Several things you have just mentioned may remind us of Arte Povera (the use of worthless objects to raise them to the artwork stage or to make hybrid, ephemeral and nomadic works). Another strong idea that characterizes the works of Arte Povera is to consider that the creative process is more important than the finished work. Is that the case for you? 
IZ: Yes, completely. Each job has a different visual aspect, but what counts is the process that brought me there, not the "finished product". It is the moment of creation that contains the essence of everything, of art. It is precisely this relationship to time that is important to me. I always say that my works are representations of the "already now", because they represent a state and a moment T within a temporality and a movement in which I find myself when I create.
VLBS: Given the unique and ephemeral nature of your works, do you document your practice?
IZ: In essence, my work is already a kind of documentation from which my materials are extracted.
But yes, otherwise I try to document my practice, even if I'm not really good at archiving and I lose a lot of documents because it helps me to create… For example, I have set up a "mapping" or register of all my materials, and of all the connections I could make between them.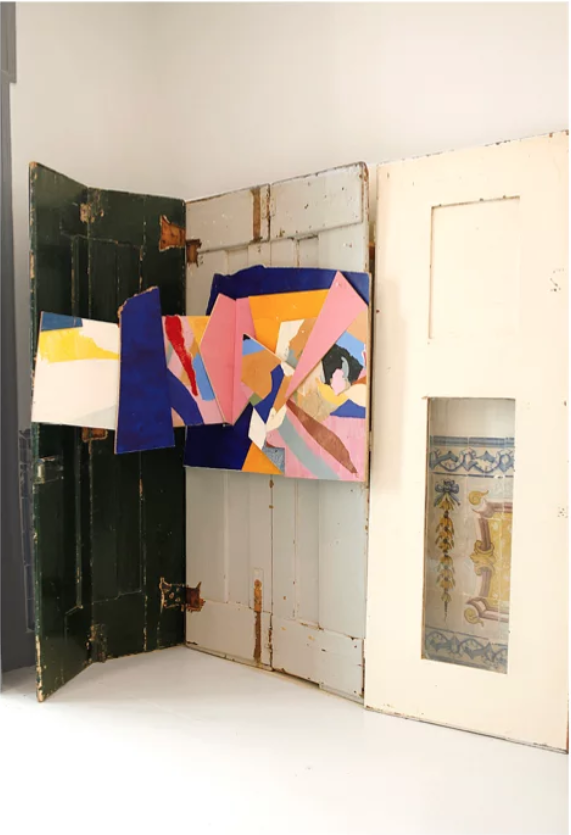 VLBS: In your works, we can identify some objects, such as doors or windows… These are the only elements that are used entirely and without being deconstructed. Why? Why? What do they symbolize?
IZ: Yes, I have an obsession with doors and windows because they are evocative of the domestic space, one of the other transversal questions that drives my work. Often, the house makes you think inside a dwelling, but it can also symbolize what you have inside you, your inner self, your thoughts. I understand this term in exactly the opposite way: I see the house as a structure built to extract itself from the world. In an interior, you are locked in and you impose a structure, a "square". Windows, doors allow you to go from inside to outside, from inside to outside. But we are neither outside nor inside. They are middle objects. In my opinion, a painting, in its classical conception, sets exactly the same limits as a house. Through my works, I try to place the domestic space as well as the painting in this transitional space between the outside and the inside, and to move its boundaries. It's always a reflection on duality, after all.
VLBS: The theme of domesticity is also reminiscent of household chores…
IZ: Yes, I am also interested in the position of women in the house. Here again, I make an analogy with painting. In the history of art, as in a house, a certain behaviour was traditionally expected of women. In one, the woman was for a long time essentially taken as a subject, while in the space of a house, she had to be devoted to household tasks.
As an artist and a woman, I play with that: I am a creator and no longer a passive subject. This can be felt even in the performative dimension of my work that comes into play when I assemble wooden boards or heavy and voluminous materials.
In the works I presented at my last exhibition, I also try to reflect on these questions through the choices of my own materials. In addition to doors or windows referring to the house, but also kitchen clothes, deconstructed cloths, the appearance of a "perfect housewife". I painted not with brushes but with sponges for washing dishes. I try to find new ways of expression and reflection. As I told you, the engagement of my works is more in the creative process, not only in what is visible in the exhibition.
VLBS: Your works could be described as "installations" but a number of elements are reminiscent of painting or performance. Finally, how would you define your works?
IZ: I call them "painting performing itself".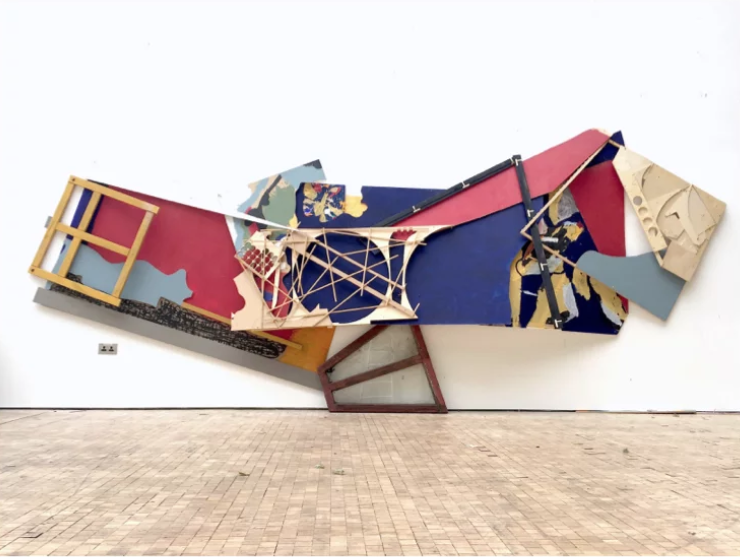 VLBS: Have you ever proposed to an audience to attend the installation of one of your works, as a performance?  
IZ: It's my dream. But for the moment I haven't found the space that would accept the experience I would like to do. I would like to make an exhibition where the walls, floor and ceiling are entirely covered with my works, unlike the white cube. The idea would be to fold all my works in space, as if space were a canvas, a painting.
VLBS: The notion of time in creation would take on its full meaning….
IZ: Yes, and it would be an experience for the public. When a visitor to an exhibition looks at a painting, he or she may be standing in front of it for less than 20 seconds before leaving. I have the feeling that if he has any accurate images left, it's mainly because of consumption through social networks. With this idea of performance, I try to propose an adaptation of painting to today's world, and more precisely to that of the virtual, which is omnipresent. I would like to propose painting as an experience.
VLBS: Whether in your speech, in your creative process or even in the nature of the objects you use, the relationship to the passage of time is omnipresent. However, nothing seems to refer to our time, understood as our time. For example, you do not integrate any digital, electronic, or even simply mechanical elements… In the same way, none of the objects used refer to the Western society from which they are extracted.
IZ: I think that plastic is the only material used in my works that can suggest a recent context. I seek precisely to place my works in a timeless and culturally unidentifiable context because I want to be part of a general "movement". However, it must be said that I am unconsciously marked by the place where I am when I create. For example, the works I made during my residency in Lisbon are much more colourful than those I have been working on since I took up residence in Barbizon.