About the Zine: Zine called 'Mahila'
---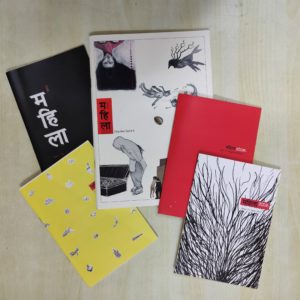 Mahila in English can be translated as woman, lady, adult human female person. But Mahila when spoken in the framework of any given Indian society, it may take on a number of connotations depending on the particular social construct – however the essential denotation may remain the same, i.e., female human person. The connotation could vary with or without prefix and /or suffix. For a woman clad in crisp, cotton, pastel tangail saree, on the streets of busy Calcutta streets is usually called 'bhadra-mahila' (meaning a lady). Seats assigned
for women on a DTC bus or Metro is labeled 'Mahilaon ke liye'. Women queue up at the gates assigned for 'Mahila', for security checks at airports.
They chose to name the zine 'Mahila', as it felt to be particularly promising, where social positioning is concerned, yet it also leaves a lot of room for satirical, humorous take on the term. They preferred using this name as it's neither too generic nor too specific. It is inclusive in nature where women artists could articulate their experiences stretching from private and personal to social and conceptual. These stories are presented with a witty, tongue-in-cheek approach, but not necessarily in a roll-on-the-floor-laughing way. They feels this name fits the collection of their stories, which are women oriented and created by women artists. The stories range from at times drawing and analyzing the 'everyday', to observing the altering roles of women in the urban sphere (from domestic to professional, sexual to social, emotional to economical), reflecting upon individual experiences as women, to shouting out for gender equality and exploring intersectional.
Mahila Zine in its effort to create a sustainable dialogue about women by women, works with a new theme in its every issue. The first issue of  the zine dealt with how social norms define and effect women's health and her journey of motherhood. The stories range from a short narrative educating us of small details we women neglect about our health in the everyday life to the everpresent patriarchy and gender bias still defining a women's journey into motherhood and afterwards.
Second issue of 'Mahila' which included visual narratives from four artists- Reshma Khatoon, Gunjan Singhal, Shrabani Dasgupta and Manmeet Sandhu takes the reader further in the journey of their individual experiences and responses, as women and as artists. Where a young artist Reshma, observes the contemporary art world, artists and art gallery in relation to a woman's position in it. And, Gunjan Singhal, story 'My unique identification number' traverses the limited freedom available to a so – called independent city woman. Other visual narrative captures a mother -daughter struggle to fit in the standardized society and a working woman's everyday experience with 'hidden' sexual harassment.
The Zine started working on a pre decided theme from third issue onwards. Woman and body politics, was the chosen theme for the third issue and participating artists were Varnita Sethi and Gunjan Singhal, apart from the founder members. There was an attempt to look at the theme from different perspectives, Varnita celebrated the idea of womanhood and the female body while Gunjan's artwork explored a woman's fight to live her desires and freedom under the judging eyes of the society. The zine also dealt with the idea of social control and woman's body and domestic violence.
Food and other stories, was the theme for the fourth issue, where in as many potato recipes as possible were collected and compiled as from friends, in an effort to make a point on the unity in diversity through food and everybody's favorite vegetable potato (Aaloo). The issue also had a visual narrative describing the state trying to exercise power by controlling common people's food habits. Meanwhile, Gunjan draws from a mother daughter experience of enjoying and exploring cooking and conventional gender roles.
Mahila Zine's fifth issue was dedicated to theme of feminism and space. Issue 5 unfolded in a series of event at Goethe Institut/ Max Mueller Bhavan, New Delhi. The aim is to explore the idea of Woman's space from multifarious angles and perspectives including personal, public and metaphorical in the form of visual narratives, drawings, montages and so on. The project started with an artists workshop titled as 'Secret Spaces/ Hiding Places', where some 30 women artists participated in the intensive experience of generating content for the issue in hand. The workshop was followed by a Panel discussion on the main theme Feminism and Space, moderated by Mrinal Kulkarni, Art Curator/Historian, Asst. Professor, Department of Art History and Appreciation, Jamia Millia Islamia. Chris M. Kurian, Home Chef of FORK SONGS and Ishani Butalia of Young Zubaan Books were the speakers of the discussion.
The sixth issue, the only issue published in the year 2020 was based on the title borrowed from a popular Hollywood film trilogy, 'Back to the Future'. Attempting to summarize from women's perspective, life in the near past, the idea was to, re- examining, re- imagining, altering, tweaking past present and future to build an alternative sequence of possibilities. The theme/ issue brings together visual narratives, visual poem and artwork by seven women artists/ writers- Aditi Aggarwal, Vasvi Oza, Ghazala Parveen, Reshma Khatoon, Gunjan Singhal, Mrinal Kulkarni, Shrabani Dasgupta and Manmeet Sandhu. The narratives take from varied life and imaginative experiences of the participating artists. As Mrinal narrates, while Manmeet illustrates, her experience from the near past of her daughter and she being caught in a tear gas explosion to disperse an ongoing protest. Ghazala shares her experience as an artist stuck at home during the lockdown as Gunjan makes the most of her time with her daughter hoping and planting for better future.  While Shrabani gives wings to her imagination, wishing to reclaiming public space for women at night. Aditi and Reshma imagine the future hand in hand with science and technology.
The 'Mahila' zine was founded by Shrabani Dasgupta and Manmeet Sandhu in 2018. It is a self-published initiative, wherein contributions are invited on a specific theme from women and women artists from diverse backgrounds and age groups. 'Mahila' Zine has worked with more than 30 women artists and published six issues till date and have exhibited at India Comix Fest, Mumbai and New Delhi and Gaysi Zine Bazaar, Max Mueller bhavan, New Delhi 2018 and 2019 and Gallery Zone Art, Taiwan in  December 2020. Mahila Zine Issue 5 was realized within the framework of Five Million Incident,2019-20, supported by Goeth Institut/ Max Mueller Bhavan in collaboration with Raqs Media Collective.
Collage – Mahila Zine issue 1-3 inside images
Collage of artworks from Mahia Zine 6
Mahila Zine FMI workshop participants (Picture credit Annette Jacob)
Mahila Zine FMI (five Million Incident) workshop artworks (Picture credit- Annette Jacob)
Vichar K Achaar
(Shrabani Dasgupta, Manmeet Sandhu)
Names of the artists who have helped in making Mahila Zine a reality:

Gunjan Singhal                                     Ritu Kamath
Reshma Khatoon                                 Shabnam Khan
Ghazala Parveen                                  Shreya Kharbanda
Varnita Sethi                                         Smita Som
Aditi Aggarwal                                      Snigdha Tiwari
Vasvi Oza                                              Sneha Lakhotia
Aastha Mishra                                      Sunita Singh
Abhirami Raj                                         Vandana Sonkariya
Anna Dasgupta                                    Shreya Shruti
Charulata Mukherjee                          Indira Prasad
Ketiya Bhandecha                               Navraj Chaudhary
Parul Sharma                                       Pooja Dange
Pratibha Sarkar                                   Richashree Pant
Ritika Verma